Institutional Support for VODAN-Africa
Uganda is learning from the strategies that worked elsewhere to optimize the approach to protect people from COVID infection. Science will help us and our universities are helping the government. Data are critical. I have asked universities to build the Uganda national COVID FAIR Data-point. This will be the first FAIR Data-point in which Data held in Uganda can be analysed with scientists globally. This Data is ours, they will stay in our country, and those who visit our data will do so according to the laws and regulations in our country. This is the backbone of our knowledge that will help us navigate this crisis.
Dr. Diana Atwine
- Permanent Secretary, Ministry of Health - Uganda
There is a fear for undetected spreading on the African continent which may lead to a sudden crisis. To help avoid this, both prevention and containment are critical. As one of the leading universities with a large medical campus and university hospital, we are committed to lead the initiative to build adequate capacity. We have already deployed ten computer- and data scientists to work with our medical experts. As an international university with students from 42 countries, we are committed to make sure that all our efforts strengthen the global fight of the corona virus.
Dr. Mohammed Mpezamihigo
- Vice-Chancellor, Kampala International University
The initiative is supported by the Philips Foundation, whose mission is to provide access to care for underserved communities. "With this donation, the Philips Foundation supports the establishment of a Virus Outbreak Data Network (VODAN), to ensure that data-intelligence is available to support an effective response to the new corona virus.
Margot Cooijmans
- Director of the Philips Foundation
Our success depends on our ability to reach out globally. We are excited that Africa is included, and we will make efforts to ensure the entire continent will be linked up. This is an important contribution to stop this and future pandemics.
Prof. Barend Mons
- Director, GO FAIR International support and coordination office
What is the Virus Outbreak Data Network (VODAN)? VODAN is a GO FAIR Implementation Network set up to help fight the COVID-19 Corona virus, that is causing a worldwide epidemic. The Implementation Network VODAN is a step to establish the Internet of FAIR Data and Services. FAIR stands for human and machine-readable digital data objects that are Findable, Accessible, Interoperable and Reusable. Accessibility is fully compliant with regulatory and governance frameworks, including personal data protection and ethical considerations based on the principle to Do no Harm.
Making data and metadata FAIR ensures that these data are discoverable on the Internet of FAIR Data and Services. Central tot his approach is the establishment of FAIR Data Points (FDPs), for COVID-19 relevant digital data objects. Opening up FAIR (meta)data by publishing them on a FDP allows algorithms to search these (meta)data, looking for patterns. The Internet of FAIR Data and Services is a distributed data discovery network; data are NOT moved, but algorithms going over the internet can find the data.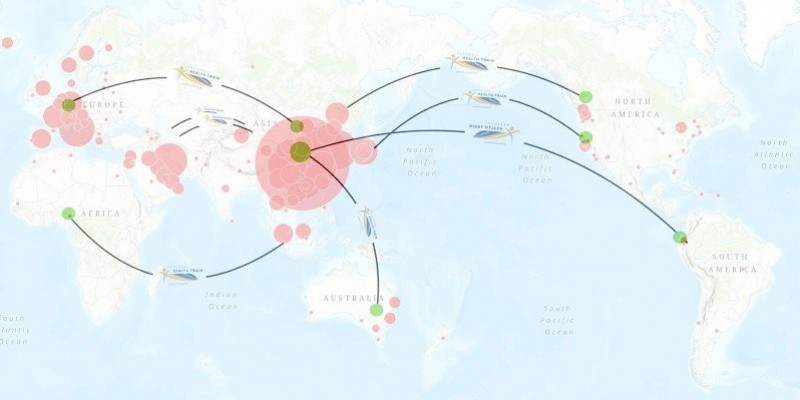 This Training of Trainers (ToT) is set up to provide support to data stewards so that they can help combat the COVID-19 pandemic.
The first course will focus on awareness, and include subjects like: what does FAIR data stewardship entail? What are FAIR data? What is a Semantic Data model? What is a FAIR Data point?
This will be followed by a course how to set up a FAIR data point. Other courses will follow shortly.
The training sub objectives are to:
Help prepare ministries and institutions for publishing FAIR (meta)data regarding the pandemic;
Ensure that universities and institutions with medical data have capacities to assist the navigation of the crisis with quality data;
Ensure that data stewardship is carried out under strict adherence to the governance and regulatory framework of the country and institution where the data belong;
Enable data to be analysed in combination with data available globally;
Ensure quality data for AI solutions to help deal with the pandemic.
Read more >
Read more >

The training is intended for data scientists and computer scientists, working in connection for medical and health service providers, the Ministry of Health, and other relevant institutions and companies.
This training for trainers can be organized in all countries, but focusses for the moment particularly on Africa and Asia.
The ToT is set up in such a way that participants can follow the training on-line, with maximum flexibility.
The Training is provided and set up by the experts of the GO FAIR International Support and Coordination Office (GFISCO).
The Training of Trainers course is set up in such a way that participants can follow the training online, with maximum flexibility.
The course is provided and set up by the experts of the GO FAIR International Support and Coordination Office (GFISCO).

Implementation Networks help build, train and also deploy the Internet of FAIR Data and Services.
Virus Outbreak Data Network (VODAN): Implementation Network on COVID-19
Implementation Network Ambassadors: Introduction and training of new participants
Implementation Network Africa: Introduction of participants in Africa-specific reality.
The participants of the ToT will be able to receive assistance from the Technical Support Team who are students in Computer Science/Data Science of Leiden Institute of Computer Science: Mariam Basajja Uganda (coordinator, PhD candidate), Kudakwashe Chindoza, Zimbabwe (PhD aspirant candidate), Aliya Aktau, Kazakhstan, (master student), Putu Hadi, Indonesia (master student) and QiQi Zhang, China (master student).
The Technical Support Team is backed by the Senior Supervision Team, faculty in Computer Science/Data Science.
The participants of the training are invited to participate via different mediums (WhatsApp, ORCID, OSF and INs).
The training modules will be provided in accessible format for participants with low bandwidth.